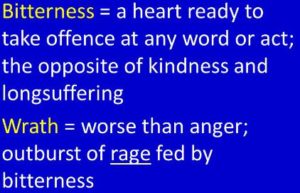 "For if ye forgive men their trespasses, your heavenly Father will also forgive you: But if ye forgive not men their trespasses, neither will your Father forgive your trespasses."'
"And his lord was wroth, and delivered him to the tormentors, till he should pay all that was due unto him. So likewise shall my heavenly Father do also unto you, if ye from your hearts forgive not every one his brother their trespasses."' Matthew 18:34-35
Ok, it's 'freedom' time, time to break the yoke and be set free.
1 – Bitterness (use any adjective you like) is unforgiveness.
2 – Bitterness blocks God's forgiveness.
3 – Bitterness blocks the victim receiving God's consolation and peace.
4 – Bitterness forces hypocrisy on the imbittered (pretending to be forgiving but still holding bitterness in the heart and mind.
5 – Genuine forgiveness isn't absent-mindedness, it is intentionally relinquishing the righ
t to demand someone's punishment or hold them in contempt, for Christ's sake.
6 – The benefits of forgiveness are: peace from God; forgiveness from God; Opportunity to demonstrate God's Grace; a clear conscience with God (not the faux clear consequence which forgives with the mouth but holds contempt in the heart); and so much more.
7 – Forgiveness if freedom – bitterness is bondage.
What to be set free, have peace, and rise above the influence of the flesh – FORGIVE.